"And God shall wipe away all tears from their eyes; and there shall be no more death, neither sorrow, nor crying, neither shall there be any more pain: for the former things are passed away." (Revelation 4:21)
The academy awards come up Sunday. I recently saw one of the movies which will be considered for best picture. I saw it mostly by accident. I don't see many first run movies anymore due to both limited time (I have seven children) and often inclination.  My wife and I were away for the weekend in a seaside town in Washington state celebrating our 23rd anniversary. 
There was not much to do in the evening. But there was an old-fashioned movie theater with one selection. The ticket taker smiled when telling us that they didn't take credit cards, but said she was glad we had some cash that way she didn't have to let us in for free.  The film playing that night was Manchester by the Sea. I had heard a little about the movie (which turned out to be mostly wrong), but I thought what could be more delightful than to attend a thought provoking movie about relationships in a small seaside town while in another small seaside town on the other side of America.
I would have walked out and never looked back about 30 minutes into the movie had not been for the peer pressure of sitting in the front of the theater. I would have had to walked past 100 grey headed retirees who had thicker skin than I did. The language was awful, the relationships lacked any sort of gentle affection, and the view of was sex pathetically low. However, ultimately I am glad I didn't leave, because in the end I thought that writer and director Kenneth Lonergan, had made a brutally honest movie about a world where there is in essence no God. 
The plot is relatively simple. The main character has committed a tragic and accidental act to those he loves the most. This act was driven by substance abuse and it cannot be undone. In a series of tragedies, interspersed with subtle humor, he tells a young man whom he has now become the legal guardian, "I can't beat this."  He cannot overcome and make peace with his awful mistake. It haunts him, and he has become a shell of the man he once was.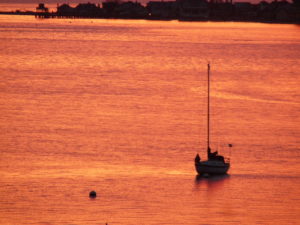 Manchester by the Sea, in its slow moving gritty blue-collar New England world, brings out the one key things that can never occur in a world without God. In a world where there is no God there is no chance for redemption. There is no removal for eternity of the damage that our sin does to others and ourselves.
Most of us, never get to see that deep behind the curtain. We never get to see the whole picture of our sins of commission and omission and their effects on those around us. God knows most of us could never handle it. The protagonist here, in a world where the beauty of the ocean side scenery given to us by God himself is the backdrop for mankind's failings, understands the pain of sin. He realizes there is no fixing it. There is no undoing it. 
Even though many these days have trouble distinguishing fiction from reality, we can be glad that Manchester by the Sea is a fictional story. The good news is that in the world of reality there is redemption. Odd it may be that many try to pass off this good news as fiction despite overwhelming evidence of its truth, and they would rather find themselves lost in the created world of movies and video games.
But in Jesus Christ we have redemption. God himself takes the pain and punishment we deserve for our tragic mistakes. And in his heaven, God washes away the suffering and makes each person new. When we glimpse this now, it is the beginning of genuine healing of the effects of our mistakes and sin no matter how aweful our mistakes are. However, there must be an active trust in God for that to happen. Jesus cannot help us if we reject him. We must call out on his name.
In a world where there is no God, the honest writer can only come to the conclusion given to us by this movie. There can be a little kindness, a little friendship, a little improvement but there is no brand new. There is nothing really to break us out of the darkness. In the end, there is only death.
That is why Jesus said he did not come into the world to condemn the world. But that world would be saved.  
It may be nice despite its crudeness that Manchester by the Sea wins the Academy Award for best picture. I think we sometimes put too much of a covering on the effects of sin. The world doesn't like the truth. I won't be watching the academy awards. But I will be pondering this great hymn written by Edward Mote over 200 years ago. That in the real world; we can stand faultless before the throne of Jesus Christ. That is the amazing in life. That is the magnitude of the greatness of real love. We see that here in the last stanza.
When He shall come with trumpet sound,
Oh, may I then in Him be found,
Clothed in His righteousness alone,
Faultless to stand before the throne!
On Christ, the solid Rock, I stand;
All other ground is sinking sand.